Main
Resumé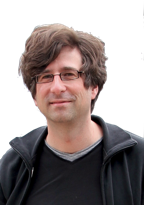 1999–2003: Promotion at the Computer Science Institute, Department VIS, University of Stuttgart with the thesis "Volumetric Methods for the Real-Time Display of Natural Gaseous Phenomena".
2003–2006: PostDoc at the University of Erlangen-NĂĽrnberg, IMMD9, Computer Graphics Group with research focus Medical Volume Rendering.
2006–2007: 3D/4D Expert at Siemens Medical MR, Erlangen.
2007–2009: Team Leader Oceanographic Visualization Group, Makai Ocean Engineering Inc., Kailua, Hawai'i, USA.
since 2009: Professor at the Georg-Simon-Ohm University of Applied Science, Faculty EFI with teaching focus Computer Graphics and Visualization.
Contact:
Prof. Dr. Stefan Roettger
Ohm Hochschule Nuernberg
Faculty EFI / Room BB.217
0911 / 5880 1248
Bahnhofstr. 90
90402 Nuernberg
Germany
Stefan.Roettger@th-nuernberg.de
Publications:
Research Samples:
Historical Artifact Visualization:
Interactive Projection of a Tinplate Railway Playground
Terrain Rendering:
Satellite Imagery:
Medical Visualization:
Engineering Applications:
Miscellaneous: