Vis Course © 2014–2022
CC-BY NC 2.0 Stefan R├Âttger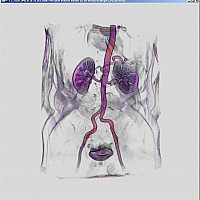 Vis Course
---
In this Visualization course we will learn
how to write 3D software with OpenGL
and how to use OpenGL to visualize medical 3D data like MR or CT scans.
The CG and Vis lectures for this course can be found here:
The lecture and all exercises will be held online on Discord in BB.209:
Medical Visualization Lecture
Time schedule:
The semester is divided in two:

In the first half of the semester you will be attending the CG lecture, the Vis lecture and the CG Course Exercises.
In the second half of the semester you will only be attending the Vis lecture. The Vis Course Excercises will be conducted as part of the latter.
Medical Visualization Exercises
Course Organisation: click here
Videos
| Vis Lecture WS 2022/23 | Video | Topic | Remarks |
| --- | --- | --- | --- |
| #1.1 | YT | Einf├╝hrung | |
| #1.2 | YT | Grundlagen | |
| #2.1 | YT | CT & MR Daten | |
| #2.2 | YT | DICOM | |
| #3.1 | YT | ITK Intro | |
| #3.2 | YT | ITK Installation | |
| #4.1 | YT | ITK Filtering | nach Windows Update leider ohne Ton, bitte die Videos des vergangenen Jahres anschauen |
| #5.1 | YT | ITK Thresholding | nach Windows Update leider ohne Ton, bitte die Videos des vergangenen Jahres anschauen |
| #5.2 | YT | ITK Denoising | nach Windows Update leider ohne Ton, bitte die Videos des vergangenen Jahres anschauen |
| #5.3 | YT | 4D MR Angio Data | nach Windows Update leider ohne Ton, bitte die Videos des vergangenen Jahres anschauen |
| #6.1 | YT | OpenGL & 3D Textures | nach Windows Update leider ohne Ton, bitte die Videos des vergangenen Jahres anschauen |
| #7.1 | YT | Procedural 3D Textures | wieder mit Ton, daf├╝r mit Echo, weil auch noch der Audio-Mixer verstellt war |
| #7.2 | YT | Iso Contouring | wieder mit Ton, daf├╝r mit Echo, weil auch noch der Audio-Mixer verstellt war |
| #8.1 | YT | Iso Surfaces | diesmal wieder mit gutem Ton |
| #9.1 | YT | Transfer Funktionen | mit Ton, aber diesmal leider sehr verschnupft |
| #10.1 | YT | DVR | |
| #10.2 | YT | DVR Demo | |
| #11.1 | YT | DVR Anwendung | |
Die erste H├Ąlfte der Vorlesung des vergangenen Jahres:
| Vis Lecture WS 2021/22 | Video | Topic |
| --- | --- | --- |
| #1.1 | YT | Einf├╝hrung |
| #2.1 | YT | Grundlagen |
| #2.2 | YT | Med. Daten |
| #2.3 | YT | MR & CT Unterschiede |
| #3.1 | YT | MR & CT Beispieldaten |
| #3.2 | YT | DICOM |
| #4.1 | YT | Qt Framework |
| #4.2 | YT | ITK |
| #4.3 | YT | ITK Hello |
| #5.1 | YT | ITK Example & 4D MR Data |
| #5.2 | YT | OpenGL Recap |
| #6.1 | YT | 2D & 3D Texturen |
Required Software: